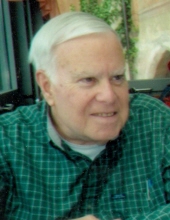 Obituary for Alfred B. McGarraghy
Alfred Barrett McGarraghy
(Age 83)

Alfred McGarraghy, loving husband and father died suddenly of a heart attack at his home in Vienna, VA, on Saturday, August 5, 2017 after a wonderful, happy family gathering. A 4th generation Washingtonian he was preceded in death by his brother William and parents, Catherine (Barrett) McGarraghy and Alfred A. McGarraghy who managed and operated the cafeteria at the Shrine of the Immaculate Conception until 1973. He was the nephew of the late U.S. District Judge Joseph McGarraghy and former Chief of D.C. Police Robert Barrett. He graduated from Gonzaga College High School in 1952 and the Georgetown School of Foreign Service after which he was commissioned as Second Lieutenant in the Army ROTC and served 6 months active duty followed by active reserves. In 1958 he embarked on a 36 year career with the CIA in the Office of Security. He provided direct support to three CIA Directors- John McCone, Admiral Raborn, and Richard Helms. In 1985 he received a Certificate of Distinction from Director Casey and a Career Intelligence Medal upon retirement. He had assignments in Australia, Los Angeles and Nevada with most of his career in the aerospace and counterintelligence programs. In retirement he served for 10 years on the board of SIGNA, the retired CIA security officers association. He maintained an extensive library of reference books to support his hobby of researching historical facts and their impact on current events.
He is survived by his beloved wife of 47 years, Joanne (Purcell) McGarraghy, son Matthew, daughter Monica (Niels), granddaughter Elodie Marie and brother John (Audrey), sisters Mary Catherine (Joseph) Beyda, Beth Ann (Don, deceased) Eirich, Patricia (Thomas) Bowman, Eileen (Rick) Mann; sister-in-law, Karen (Drew) Yesolitis, brother-in-law Jim (Judy) Purcell and numerous nieces and nephews. He was a devout Catholic with great love of God, his family and country.
A Mass of Christian Burial will be celebrated at Our Lady of Good Counsel Catholic Church, 8601 Wolf Trap Rd., Vienna, VA 22182 on Friday, August 11 at 11 AM. Visitation will start at 10:30 AM. Interment will be held at National Memorial Park at 2 PM In lieu of flowers, donations may be made in his memory to Little Sisters of the Poor, 1503 Michales Rd, Henrico, VA 23229 or Our Lady of Good Counsel Catholic Church.
Previous Events
Visitation
Our Lady of Good Counsel Catholic Church
8601 Wolftrap Rd.
Vienna , VA 22182
Service
Our Lady of Good Counsel Catholic Church
8601 Wolftrap Rd.
Vienna , VA 22182
A reception will follow in DeSales Hall for refreshments and fellowship with the family
cemetery
Fairfax Memorial Park Cemetery
9900 Braddock Rd
Fairfax, VA 22032
Military Honors will take place Graveside