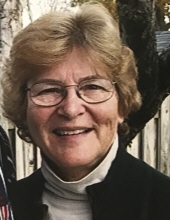 Obituary for Elsie Mae Selby Benson
Elsie Mae Selby Benson (Age 75)
Of Fairfax VA passed away on Sunday, July 30, 2017 after a battle with cancer.
She is survived by her loving husband, Lonnie D. Benson of 39 years and children; Jennifer Bennett, Joshua Selby and step-children; Lonnie J. Benson, Robert Benson, Karen Jansen, numerous grandchildren, and beloved great grandchildren.
Elsie will be remembered for her steadfast faith, love of family and thirst for knowledge.
Elsie started her professional career as GS-2 (personnel clerk for the USMC) and ended her career as a GS-15 (Supervisory Computer Specialist) with the Defense Logistics Agency. During her government service, she received numerous awards for leadership and accomplishments.
She was proud of her family's heritage and based on her thorough research she and her sisters are being inducted in to the Daughters of the American Revolution. Her faith and family were the center of her life. She was a faithful worshiper and volunteer at the Oakton United Methodist Church.
She was a mentor and example to her children, grandchildren and great grandchildren. She promoted and encouraged learning, travel and continued education.
A memorial service celebrating Elsie's life will be held Saturday, August 5th at 11am at Oakton UMC 2951 Chain Bridge Rd, Oakton, VA 22124.