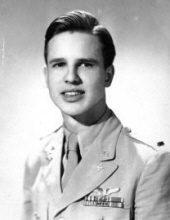 Obituary for James L. Vining
James Louis Vining
(Age 92)


James Louis Vining, Captain USAF retired, Silver Star decorated veteran died peacefully on Tuesday, August 8, 2017. He was predeceased by his beloved wife, Mary Frances Hodges Vining, and is survived by his four children, Varina Simmons, Matthew Vining (Nancy), Amy Whittington (Tom), and Bonnie Vining. He is also survived by five grandchildren, Amanda Janitzky (Nicolai), Rita Mudawar (Michael), James O. Simmons, James R. Vining, and Alexandra Whittington; and five great-grandchildren, Dmitri Janitzky, Samantha Mudawar, Maria Janitzky, Hayley Mudawar, and Charlotte Mudawar.
James had a life-long love of flying, which led him to enlist in the Army Air Corps at age 18 in 1943. He piloted the B-26 Martin Marauder, and he and his crew flew many successful bombing missions during the war. On his final mission in the last days of WWII, his plane was struck by a German shell. Despite a life-threatening injury to his right leg, James and his co-pilot managed to successfully land their badly damaged aircraft, losing only one crew member.
Due to his injury, James was honorably discharged from the service. After the war, he returned to LSU where he finished his BA and MA, married his college sweetheart, and went on to pursue a successful career with the Federal Government. James was a member and deacon at Vienna Baptist Church for more than 50 years where he sang in the choir and performed in many dramatic productions. He continued to pursue his love of flying and after retiring from the government in 1981, pledged himself to work for peace and a world without war. James loved his family, flying, traveling, and playing games with his grandchildren. He will be greatly missed.
Previous Events
Service
Ft. Myer Old Post Chapel
204 Lee Ave
Fort Myer, VA 22211
Please assemble at the Old Post Chapel by 12:15 PM
cemetery
Arlington National Cemetery
1 Memorial Drive
Arlington, VA 22201