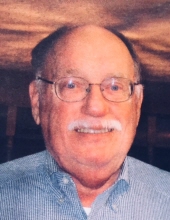 Obituary for Ronald Edward Barrett
Ron Barrett (age 72)
On Monday October 30, 2017 Ronald Edward Barrett, of Vienna, VA died after an 11-year battle with metastatic cancer. Beloved husband of almost 50 years to wife Sheila (Orling), loving father to son Daniel, and grandfather to four-year old Max and seven-year-old Maya, Barrett was faithfully devoted to his family to the end. He is also survived by brothers Thomas (Pamela) of Fairfax, VA, and Richard (Judi) of Conyngham, PA, and sister Janet Lopez (Edward) of New Albany, PA.
Born January 23, 1945, in Hazleton, PA, to parents Betty and Thomas, Barrett graduated from Hazleton High School in 1962 and went on to receive a B.S. degree in Psychology at Penn State. He relocated to Northern Virginia in 1966 and began his career as a juvenile probation officer in Alexandria, VA. Barrett maintained the demands of his career, his commitment to the Army reserves where he served as Drill Sergeant, while at the same time studying law at American University where he received a JD in 1972. In 1978, Barrett was named an associate judge in Alexandria Juvenile and Domestic Relations Court and the Alexandria General District Court.
Barrett was president of the Alexandria Legal Aid Society and treasurer of the Alexandria Bar Association. He also lectured at the Northern Virginia Police Academy.
Later, he practiced law in Vienna, VA. Active involvement in youth organizations in Vienna and Oakton followed, beginning as tee ball coach of the Athletics in Vienna Little League in 1979. Cubmaster of Cub Scout Pack 183, coach of the Sting and Orange Crush in Vienna Youth Soccer, and coach of the VYI basketball Bullets were examples of the many posts he proudly assumed in the years that followed. But his passion for baseball coaching was his strongest, and he returned to Vienna Little League to coach in the 1990s.
Private interment on Thursday at King David Memorial Gardens. In lieu of flowers, the family suggests donations be made in Ron's name to the American Cancer Society.