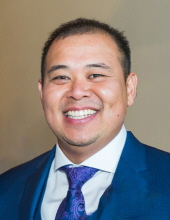 Obituary for Long Cong "Kevin" Ly
Long Cong "Kevin" Ly, 38, of Luray, Virginia, died unexpectedly Monday, Nov. 27, at Page Memorial Hospital, after collapsing during his morning workout. Kevin, known as "Rev Kev," was the senior pastor of the Main Street Baptist Church in Luray. On Oct. 21 of this year, he married Jacqueline "Jackie" Wright, a Fauquier County native. They honeymooned in Malta and Sicily, and spent Kevin's last weekend helping out at Jackie's family's Christmas tree farm, and decorating their home for their first married Christmas together.

Kevin, who grew up in Arlington, Virginia, was known to his vast circle of friends as a caring and compassionate man of God, who lived his life with passion and purpose. He charmed everyone he met with his warmth, his broad smile, his intelligence and his great sense of humor. He was famous for the numerous and hilarious hashtags on his social media posts. As a minister, Kevin touched many lives. He was driven to make his church a force for good in the community. Kevin was previously a ministry associate at Gateway Community Church in South Riding, Virginia; youth pastor and campus minister at Parkwood Baptist Church, Fairfax, Virginia; youth pastor at Calvary Hill Baptist Church, Fairfax, Virginia; and youth pastor at Greenbrier Baptist Church, Arlington, Virginia. Kevin loved working with and counseling young people. Many of the youth he worked with over the years are now adults who remember how Kevin transformed their lives.

He was the oldest son of Chau and Quyen Ly of Fairfax. Born in Hong Kong on Sept. 20, 1979, during his parents' immigration from Vietnam to the United States, Kevin lived in Greensburg, Pennsylvania, as a child before the family moved to Arlington. Kevin was close to the late Russell Myers, the family's sponsor in immigrating to the United States. Kevin cared for his "Grandpa" before he died in 2016.

Kevin earned his master of divinity degree in 2015 from the John Leland Center for Theological Studies, Falls Church, Virginia, and had been accepted into the doctor of ministry program at McAfee School of Theology at Mercer University, Atlanta. He earned a psychology degree from George Mason University in 2003, having previously earned an associate's degree in business management from Northern Virginia Community College, Woodbridge. Kevin was a 1998 graduate of Wakefield High School, Arlington, where he played football and baseball, and had also attended Chantilly High School for two years.

He loved golf, hiking out in nature, a good meal, rooting for the Florida State Seminoles and spending time with family and friends. He and Jackie enjoyed traveling and immersing themselves in the culture of new places.

In addition to his wife and parents, Kevin is survived by his grandparents, Mu Yang Li, of Ohio, and Heng Jin Deng, of California, his uncle and aunt Shan Li and Meiyi Li, of Ohio, his sister, Diep "Karen" Ly, of South Riding, his brother, Kenny Ly, of Richmond, and many aunts, uncles and cousins. Kevin was proceeded in death by his grandparents Heng Hong Chuong and Nga Ngoc Mac, of California. He is also survived by his wife's family: her parents William and Laura Wright, of Marshall, and sisters Emily Wright of Richmond and Lydia Wright of College Park, Maryland.

A visitation will be held from 1:30-3 p.m. on Saturday, Dec. 2, at Westover Baptist Church, 1125 Patrick Henry Drive, Arlington, Virginia, with a Celebration of Life service to begin at 3 p.m. Family and friends are invited to attend the graveside service at 3 p.m. on Sunday, Dec. 3, at National Memorial Park, 7482 Lee Highway, Falls Church, Virginia.

In lieu of flowers, donations can be made in Kevin's memory to World Vision International at https://www.worldvision.org/donate or International Justice Mission at https://www.ijm.org/give.
Previous Events
Visitation
Westover Baptist Church
1125 Patrick Henry Drive
Arlington, Virgina 22205-3517
Service
Westover Baptist Church
1125 Patrick Henry Drive
Arlington, Virgina 22205-3517
Graveside Service
National Memorial Park
7482 Lee Highway
Falls Church, VA 22042
Please assemble at the grave site. The service will promptly start at 3:00 PM