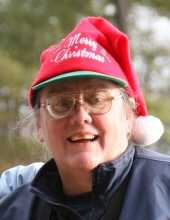 Obituary for Elizabeth Williams Barton
Elizabeth Williams Barton
1946-2017

Libby was born September 7, 1946 to Frances (McLean) and Elwood Williams III. She graduated from St. Agnes School in Alexandria, got her B.S. at Skidmore College, and two Masters Degrees - one in Education from Western Michigan University, and an M.B.A. from the University of Maryland.

She worked in education for most of her life. She taught physical education in Beloit, Wisconsin right after her college graduation. On returning to the Washington area in 1973, she joined the physical education staff at Sidwell Friends School. By 1978 she had risen to become the program director - the first female Athletic Director in the Interstate Athletic Conference. She later worked in administration at Georgetown University for several years.

In 1990, she moved on to combine assorted part-time jobs with more of the travel, scuba diving and photography that she loved to do.

She has been active at Emmaus Church of Christ for twenty-six years, taking on many responsibilities in her volunteer work there.

In lieu of flowers those wishing to do so should make a contribution to a favorite charity or cause.

She has two surviving siblings, Anne Williams and James Williams, both of Lewiston, Maine.