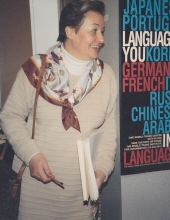 Obituary for Daniele M. Glane Annabi
Alzheimer: A ruthless and silent robber of the mind and life

My mother Daniele was first officially diagnosed with Alzheimer at the age of 58; however, as a healthcare provider, she first self-diagnosed at the age of 51. It ate at her to the point that she became afflicted with depression. She recently passed away in the dawn hours of Christmas day 2017, at the age of 75.

She was a strong and elegant woman with a driven personality, a great cook, with a talent for everything she touched, whether sewing, drawing, gardening, etc. She loved to entertain family, friends, and diplomatic relations alike. Daniele started her career as the head coach of the Tunisian female basketball team, and soon transitioned to speech therapy specialized first on mentally handicapped patients, then on geriatric patients and finally on cardio-vascular accident victims. When my mom moved from France to the US, as a diplomatic spouse, she learned English watching episodes of I Love Lucy! Shortly after Danielle became a French language instructor at the World Trade Center in Manhattan, NY.

This horrific disease robbed Daniele of about 20 years of her life as well as all of us of her. She was stolen from us!
Mom did not get to enjoy her grand-daughter to see her graduate from high school, become a strong and beautiful young woman, and soon graduate from college.
Mom did not get to grow old with her husband Hedi.
Mom did not get to see her son, me, achieve some pretty incredible endurance events. She would have never believed it!
Mom did not get to travel and discover the world as she loved to. There are so many missed family meals, Christmas, birthdays, New Year's eves, moments, hugs and kisses, and memories that she did not get to experience.
Instead, she remained for the last 8 years on a memory floor at a Sunrise facility. Although the care staff watched over her with love and affection, she still was restrained to a life of void.
We cry for you. We miss you terribly. I love you mom.
Je t'aime maman.
Previous Events
Service
Money & King Funeral Home
171 W. Maple Ave.
Vienna, VA 22180