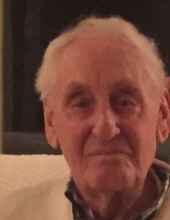 Obituary for John Patrick Keilty
Keilty, John "Jack" Patrick
(Age 94)
Of Vienna, VA died peacefully on December 23, 2017, surrounded by his family at his son's home in Phoenix, MD. Born September 4, 1923 in Lynn, MA, he was the son of the late Thomas and Mary Keilty. He was the husband of the late Patricia Jean Keilty.

He was the father of CAPT John (Kim) Keilty USN (Ret) of Oklahoma City ,OK, Maria (Tom) O'Brien of Lovettsville, VA, Tom (Sue) Keilty of Phoenix, MD, Greg (Navy) Keilty of Richmond, VA, CDR Kevin (Liz) Keilty (Ret) of Lakeland, TN, Carmel Keilty of Centreville, VA, Tim (Colby) Keilty of Fredericksburg, VA; grandfather and great grandfather of Kate (Major Nick) Morgans USAF, HM1 Kelly Keilty USN (Res), LT Jack (Mekele) Keilty, USN, Shannon (Matt) Lesniak, Allison Lesniak, Benjamin Lesniak, Tommy Lesniak, Patrick (Millie) O'Brien, Selena O'Brien, Mia O'Brien, Sean O'Brien, Tim (Cari) O'Brien, Eva O'Brien, TJ (Kayleigh) Keilty, Caitlin (LT Eddie) Desch USN, Edward Desch, LT Casey Keilty USN, Sean Michael Keilty (deceased), Ryan Keilty, Danny Keilty, Dominic Keilty, KK Keilty, Timmy Keilty, Christian Keilty, Amy Ciccone, Eric Ciccone and Reilly Keilty; brother of Sister Patricia Keilty, Carmelite Monastery, Barrington, R.I. and the late Barbara Merritt of Swampscott, MA. In addition to his parents, wife, grandchild and sister, he was preceded in death by his daughters-in-law, Kerry Keilty and Cathi Keilty

John "Jack" Patrick Keilty was a driven scholar, an accomplished poet, an honorable patriot and war veteran, and a faithful and loving family man. He was remarkably talented and a true professional; a man full of humility, faith, and passion.

Following High School at St. Mary in Lynn, MA, where he played baseball and was on the Debate Team, Jack attended Boston College and took courses in Greek and Latin. Throughout Jack's life, he learned to speak and translate 7 different languages. A big fan of a "Jesuit education," Jack transferred down to Spring Hill College in Mobile, AL.

When World War II broke out, Jack was accepted into the Navy Commissioning Program and took courses at Millsaps College in Jackson, MS. In 1943, he was commissioned at Officer Candidate School in Plattsburg, NY. His first assignment was as Communications Officer, onboard a Coastal Yard Minesweeper YMS458, doing mine patrol along the Eastern Seaboard. In 1945, he was transferred to Okinawa, Japan as a Cargo Handling Officer with the Port Authority. Lieutenant Jack Keilty was assigned as the "Officer in Charge of Operation Magic Carpet," where he was responsible for the expeditious movement of American servicemen and women back to the United States. Later in life, Jack said to his children, "I loved the Navy and I loved the spirit of the Sailors who served." Jack said, "I wasn't a hero, but rather, I was an ordinary person."

After the war, Jack returned to work as a machinist for General Electric, while attending night school at Boston College. He earned his bachelor's degree in Economics.
In the immediate post war years, Jack loved to travel, and he loved to take courses, particularly in the Languages. He "thumbed" his way across Europe, the United States and Mexico. He attended the University of Mexico in Mexico City, The Sorbonne in Paris, France, and Fordham University for graduate work in Russian Studies. While in Europe, he was able to meet his Irish relatives in Roskeymore, Ballymote, Sligo, Ireland. While on a trip to Mexico City, Jack met Patricia Jean Jennings, the "love of his life," and they were married on September 1, 1951 in Arlington, Texas. Together, they would share 62 years of incredible love and happiness with their 7 children, 19 grandchildren, and 8 great grandchildren.

Jack worked for the National Security Agency in Maryland, from 1953 until 1960, which included a 2-year program in Oberammergau, Germany to learn Russian. From 1960 to 1985, Jack worked for the Central Intelligence Agency in Virginia, which included an 18-month assignment with the American Embassy in Moscow, USSR. Jack was a loyal and dedicated civil servant for the United States Government and he was very proud of his honorable service.

They were long time parishioners of Our Lady of Good Counsel Catholic Church in Vienna, Virginia. During the children's adolescent years, Pat and Jack were heavily involved in school activities; such as sports, concessions and PTA. In the years that followed, Pat and Jack so much enjoyed visiting their children and being a part of their lives. The children entered careers in education, hospital administration, business, coaching, and the Navy. When some of the children married and had their own children, Pat and Jack really got busy, because they wanted to spend as much time with their grandkids and great grandkids as possible. Jack really loved to tell stories to his family, about his life. They always enjoyed hosting Christmas and Thanksgiving family celebrations.

During their twilight years, they spent a lot of time at Carolina Beach. They loved the seaside and they enjoyed reading, and writing letters and poetry. Jack wrote numerous poems for all of his family announcing births, graduations, weddings or just for the joy of sharing a special moment. Each poem reflected personality and described the event with a personal and uniquely humorous style. The family gathered up as many of his poems as they could and bound them in a 200-page hardback book titled "Versed."

In the words of Jack's son, Tom, "Jack Keilty was a legend." He and his wife lived their lives with impeccable morals and principles, never compromising their character. Their dedication to their Faith and Family, from the beginning to the end, was inspiring. Jack and Pat "Finished the course and they kept the faith."

Mass of Christian Burial will be celebrated at Our Lady of Good Counsel Catholic Church, Vienna, VA on Saturday, December 30 at 1pm, with a reception following in DeSales Hall. Interment private. In lieu of flowers, contributions may be made to Carmelite Monastery, 25 Watson Ave., Barrington, RI 02806, Attn: Sister Patricia Keilty.
Previous Events
Service
Our Lady of Good Counsel Catholic Church
8601 Wolftrap Rd.
Vienna , VA 22182
Reception in the DeSales Hall following Mass