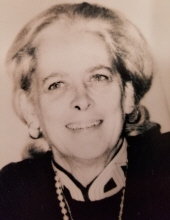 Obituary for Mary Kaul Warren
Died gracefully on December 19, 2017, surrounded by her children and grandchildren. She was born November 25, 1919 in Faribault, Minnesota, the sole sister (aka "Sissy") among six brothers born to Edward Kaul and Eva Caron Kaul. After graduation from Faribault High School, she educated herself at the local library, reading voraciously and dreaming of one day leaving small-town life to explore the wider world. She met Lieutenant Pratt ("Pat") Warren of Wichita, Kansas at a dinner-dance at Fort Snelling, Minnesota in 1939, and they were married in November 1940. They were soon posted by the Army to Newfoundland, during the Lend-Lease, on the eve of World War II.

Twenty-one years of army life that followed offered much opportunity for travel and meeting people from all over the country and the world. Even with a growing family (eventually she and Pat had nine surviving children), she often volunteered: in Germany in the early 1950s, she worked with refugees; in Thailand in the late 1950s, she worked with blind children; in northern Virginia, in the mid-1960s, after passage of the Voting Rights Act, she was a poll worker, and in the 1970s she worked with children with intellectual disability.

Mary loved army life but also longed for "a settled feeling," a home for keeps. In August 1962, the family finally did settle, when Pat retired from the Army and began teaching at Marymount College of Virginia. They made their home in the Spring Lake neighborhood of Vienna, Virginia. After Pat died in 1974 at age 59, Mary had four children under 19 at home, whom she guided through adolescence and college. At age 70, another change occurred in Mary's life when she began working for the Cuppett Performing Arts Center in Vienna. She retired at age 80.

Mary loved books, newspapers, art, music, ballet, politics, sports, and above all, people. She had many, many friends. She had a keen wit and a wonderful sense of humor, was a prolific letter writer and raconteur, telling tales of family life and of her times. A great hostess, her candlelit dinner parties were memorable. Her favorite clothes were always jeans (growing up with boys) but no one ever looked more elegant in dress-up clothes than Mary Warren.

All her days, Mary was gracious, loving, spirited, wise and the best of sports. She is survived by her brother, James Kaul; eight children: Victoria, Elizabeth, Johanna, David (Charmane), Christina (Hans), Peter (Carleen), Edward, and Patrick; nine grandchildren; and five great-grandchildren. As well as her beloved husband, Pat, two children preceded her in death: a son, Joseph, who died in 1946, and a daughter, Charlotte, who died in 2012.

A Memorial Mass will be held on February 17, 2018 at 1:00 p.m. at Our Lady of Good Counsel Catholic Church in Vienna, where she was a parishioner for 55 years, followed by a celebration of her life at her home.

In lieu of flowers, donations may be made to Service Source Disability Resource Center, 6860 Commercial Dr., Springfield, VA 22151.
Previous Events
Service
Our Lady of Good Counsel Catholic Church
8601 Wolftrap Rd.
Vienna , VA 22182