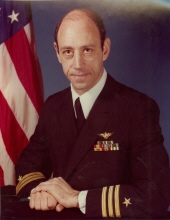 Obituary for CAPT. Rosario "Zip" M. Rausa
Rosario "Zip" Rausa (USNR), 81 years, passed away on Wednesday, January 4, 2018, at Walter Reed Military Hospital in Bethesda after being diagnosed with Leukemia on December 19, 2017. He was the husband of Neta Irene Rausa. They shared 50 years of marriage. Zip was born in Utica, New York. He was the son of Rosario "Zing" and Mary Rausa. He attended Hamilton High School and went on to attend Middlebury College in Vermont. He was a Navy Attack Pilot and went on to write several military books and an autobiography of his military life, "Gold Wings, Blue Sea." He has had many accomplishments with his military career and in his personal life. He was editor of Wings of Gold preserving the history, legends, and stories of Naval Aviation. One accomplishment that he spoke of most recently was the following: Dad saved the lives of 7 Green Beret at the battle of Lang Vei during the Vietnam War. He provided Close Air Support to these men while they were trapped in a Special Operations Command Center. The North Vietnamese were detonating explosives around and setting fires alongside the Command Center to kill all inside. Flying just 100 feet above the ground in dense fog, Dad employed all available ordnance and called in other fully loaded squadron mates until the men could escape. A North Vietnamese soldier recounted the deafening noise of dad's AD-1 Skyraider during his attacks in the book "Red Plateau". In the book he describes not being able to see the aircraft, only a line of disruption in the fog. Given the mountainous terrain at that location, it's clear Zip displayed enormous courage with spectacular life-saving results that day. Dad was reprimanded upon his return to the ship for busting the theater minimum altitude of 3000 feet. He states he would do it again. Dad did not know the fate of those he saved until 40 years later, where he was thanked face-to-face at a reunion. Zip is survived by Neta, his wife; Anna and David Gregory (daughter and son in law), Zeno Rausa (Son), Emily and Tom Galat (daughter and son–in-law), Rachel and Mike Tracy (daughter and son-in-law), and Michael and Laura Rausa (son and daughter-in-law), Adelle Hamilton; grandchildren: Madeleine, Jaqueline, Zeke, Braxton, Tabatha, Jordan, Ella, and Zoe. Tom and Sandy Rausa (brother and sister-in-law), Marie and Steve Wickwire (sister and brother-in-law), Tina Rausa and Marvin Bjurlin (sister and brother-in-law). Other family members he is survived by: Timmothy Benton and Colleen Frederick, Julie and Bob Sickle, Megan and Justin Rollins and Samantha Sickle, Nicole and Jerry Rice, Jordan and Joely Rice; Phyllis Ray and Family. Dad enjoyed reading, going to mass, working out, playing basketball, feeding deer, foxes, birds and neighbors dogs and spending time with family.

The viewing will be held on
Thursday January 11, 2018
6:00pm to 8:00pm
Money and King Funeral Home
171 West Maple Ave. Vienna, Va 22180

The funeral will be held on
Friday, January 12, 2018
10:00 am
Our Lady of Good Counsel Catholic Church
8601 Wolftrap Rd. Vienna, Va 22181

There will be a ceremony at Arlington Cemetery 7-8 months from now, more information to follow.

In lieu of flowers, donations can be made to the American Cancer Society or the Fisher House Foundation.
Previous Events
Visitation
Money & King Funeral Home
171 W. Maple Ave.
Vienna, VA 22180
Service
Our Lady of Good Counsel Catholic Church
8601 Wolftrap Rd.
Vienna , VA 22182
Fort Myer Old Post Chapel and Arlington National Cemetery will be held at a later date.