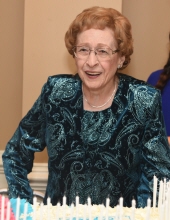 Obituary for Mary Henkel Ceconi
Passed away peacefully on Thursday January 4, 2018 at the age of 101 surrounded by her family at her home in Vienna, VA Born November 20, 1916 at her grandparents' home in Knoxville, MD she was the daughter of the late James and Elizabeth Henkel. Beloved wife of 55 years of the late Philip J Ceconi, she is survived by her 3 children Katharine Ceconi Reiter, William P Ceconi and wife Joyce M. Ceconi, and Elizabeth Ceconi Sherrill and husband James P Harvey; 3 grandchildren Philip J. Ceconi II, LT Christopher Michael Ceconi USN, and Lauren Katharine Sherrill; and several nieces and nephews. She is predeceased by her sister, Katharine Henkel Stone.
Mary grew up in Washington, D.C. before electric lights and automobiles were common. She graduated from Central High School which is now Cardozo HS and attended Strayer Business School. Mary remained in the District until she married Phil Ceconi on November 3, 1945 when they moved to Arlington Virginia; in 1965 they moved to Vienna Virginia.
Mary was a pioneer among working women. When most women left their jobs to start their families, Mary maintained her 36-year career with the US Department of Agriculture while raising 3 children. Mary was known for her passion for shopping and was always very well dressed, both in and out of the office. After retiring in 1971, Mary enjoyed traveling across the US and Canada with her husband and spending winters in Madeira Beach on the Florida gulf coast. Mary will be remembered for her dedication to family, fondness for sweets, and love of reading.
Her family extends its heartfelt thanks for the attention and kindness of her caregivers Lillian Mamani, Vilma Gonzalez, Consuelo Vaca and Flor Nooralian. Interment will be private. Please no flowers, instead contributions may be made to the Salesian Sisters in memory of Mary Ceconi attention Sr. Mary Rinaldi, 659 Belmont Avenue North, Haledon NJ 07508



PLEASE NO FLOWERS!!!