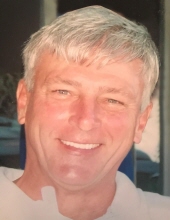 Obituary for CAPT. Michael T. Korbet
Michael Thomas Korbet
CAPT, USN (retired)



Michael Korbet passed away at home on January 28, 2018, after a brief battle with cancer with his wife and daughter by his side.



Michael was born in Brooklyn, NY, in 1944, grew up in San Jose, CA, and attended Bellarmine College Preparatory School. He graduated from the U.S. Naval Academy in 1966 and was designated a Naval Aviator in January 1968. His Naval career took him from Jacksonville, FL, to Monterey, CA, and from Barbers Point, HI, to Brunswick, ME. After 28 years in the Navy, he worked for SCITOR for 18 years and retired shortly after his 70th birthday.



Michael was a confident, unassuming, humble gentleman who never said a bad word about anyone. His wry sense of humor, great hugs, and signature Bloody Mary's will be missed.



He is survived by his loving wife Cathy, brothers Stephen and Peter, daughter Melissa, stepson Mike, and four grandchildren. He was preceded in death by his son Christopher and stepson Scott.



A memorial service will be held at Money & King Vienna Funeral Home on Friday, February 2, at 1pm. Fort Myer Old Post Chapel and Arlington National Cemetery will be at a later date.
Previous Events
Service
Money & King Funeral Home
171 W. Maple Ave.
Vienna, VA 22180
Service
Ft. Myer Old Post Chapel
204 Lee Ave
Fort Myer, VA 22211
Please assemble at the Fort Myer Chapel by 12:15 PM
Graveside Service
Arlington National Cemetery
1 Memorial Drive
Arlington, VA 22201