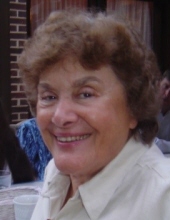 Obituary for Bess Caros Bilidas
Bess Caros Bilidas

Bess Caros Bilidas (Age 90), a former Capitol Hill Legislative Aide and Corporate Vice President died peacefully on Sunday, February 4, 2018. Bess was born in New York in 1927 to Greek immigrants George and Aspasia Caros. George Caros was a hardworking engineer for a laundry business and former merchant seaman who never missed a day of work during the depression in order to keep his job and support his family. Both George and Aspasia had an unwavering commitment to their family and passed along the values of hard work, perseverance, and education to their three children.
Although Bess spoke only Greek upon entering school, she mastered English within a short time frame and excelled in many disciplines. She began working as a teenager and was highly motivated to succeed. She secured a position with Bandler Corporation in New York City, quickly climbed the corporate ladder, and was promoted to Vice President at the age of 23. Mr. Bandler considered Bess his #1 employee for many years and was deflated when she moved to the DC area. He even offered to open an office in Washington DC if Bess had been willing to run it!

In 1957, Bess married George Bilidas, a restaurant entrepreneur, and followed him to the DC area so that he could pursue his dream of opening a New York style diner. Bess landed a new career as a Capitol Hill legislative aide with Congressman Donald Pease of Ohio, transitioned seamlessly, and shined in that role. Upon her retirement, Bess became more involved in the family business and often jumped in to help as needed. Bess also gave freely of her time and many talents to several philanthropic programs through Saint Katherine's Greek Orthodox Church of Northern Virginia. She was an active member of the Ladies Philoptochos and the Leadership 100; groups committed to supporting the outreach ministries of the church. Bess touched everyone she met with her intelligence, kindness, wisdom, willingness to help, and effectiveness. She was an inspirational role model in her devotion to her family, successful career, dedication to volunteer work, as well as her grace, perseverance, and enthusiasm.

Survivors include Bess' son Steve Bilidas, daughter-in-law Denise Bilidas, six grandchildren, a great-granddaughter, sister Christina Debeniotis of Greece, and brother John Caros of New York. Relatives and friends are invited to the Divine Liturgy at St. Katherine's Greek Orthodox Church, 3149 Glen Carlin Rd., Falls Church, VA on Monday, February 12, 2018 at 11:00 AM. Interment will follow at National Memorial Park. In lieu of flowers, the family has requested donations be sent to St. Katherine's Greek Orthodox Church.
Previous Events
Service
Saint Katherine Greek Orthodox Church
3149 Glen Carlyn Road
Falls Church, VA 22041
Graveside Service
National Memorial Park
7482 Lee Highway
Falls Church, VA 22042