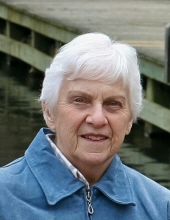 Obituary for Sylvia M. St Jean
Sylvia M. St Jean of Ashburn, Va., formerly of Reston, Va., passed away peacefully at age 85 on February 8, 2018 wuth Ron St. Jean her husband of 65 years, by her side. Born in Danbury, CT, younger daughter of Ruth and Francis Meder. She attended Becker College in Worcester, MA, graduating in 1951.
Sylvia and Ron had five children while living in West Hartford, CT, and later Naperville, IL. They made their home in Reston, VA, in 1985 and moved to Ashburn in 2014. Sylvia retired after 10 years as Executive Assistant to the General Manager of USAA. She volunteered at Reston Hospital for many years as well.
In addition to her husband Ron, Sylvia is survived by their five children, Paul St ean of Seattle, WA, and his wife Jessica, Sharon Rose Miller of Lincoln Park, MI, and her daughters Erica Prose of Little Rock, AR (husband Adam) and Alexandria Rose of Okemos, MI, along with Sharons husband, Mike Miller, Linda St Jean of Rockville, MD, Audrey St Jean Wittenburg of Ashburn, VA and her sons Nathan and Adam and Mark St Jean of Simsbury, CT, and his wife Heidi. Sylvia was predeceased by her sister Dr. Marylouise Meder of Emporia, KS, and her granddaughter Jessica Rose of Palm Beach, FL.
The family will receive guests from 6 to 7:30 PM on Thurday, February 15th at Money & Kng Funeral Home, 171 West Maple Ave., Vienna, Va. The burial will take place in West Hartford, CT. In lieu of flowers, donations may be made to Ashby Ponds (indictae "Scholars" Fund in Memory of Sylvia St Jean), c/o Ashby Ponds Philanthropy office, 21170 Ashby Ponds Blvd, Ashburn, Va 20147.
Previous Events
Visitation
Money and King Funeral Home
171 W. Maple Ave.
Vienna, VA 22180