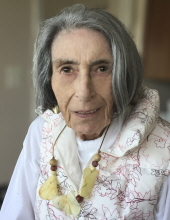 Obituary for Judene F. Divone
Judene F. Divone
10/18/1931 – 2/15/2018

On February 15, 2018, the world lost a feisty, elegant, artistic lady. Judy was born and raised in California and her spirit always longed for the warmth of the sun and the Pacific Ocean.
While working as a graphic designer at the Jet Propulsion Laboratory (JPL) in California, she met the love of her life, Louis V. Divone. They married on August 10, 1968 and flew off on a cross-country honeymoon in Lou's Cessna "Charlie." Through their marriage, they lived in California, Long Island (New York), and Virginia. They traveled the world including England and many countries of Europe, as well as Kenya, Egypt, China, and Japan.
Judy was a docent at the Smithsonian's Air and Space Museum and could answer all kinds of questions about the planes and aircraft there.
Judy's artistic side would not be repressed. In addition to gardening, cooking, collecting antique toys, and hosting neighborhood parties, she joined a pottery class and made quantities of beautiful, creative items—bowls, mugs, cups, teapots, decorations, and more. She said her artistic talents came from her father who was an artist, cartoonist, and worked in advertising.
She did research in the Library of Congress and authored a book: "Chocolate Moulds: A History and Encyclopedia." With Lou, she wrote "Wings of History: The Air Museums of Europe." She ran the Oakton Hills Publishing company.
Though weakened by her COPD after Lou died in 2004, her spirit continued to live in the colorful world. Her travel was vicarious via National Geographic television programs, generous support of overseas charities, and dry-witted or mysterious British shows.
Any visitor was regaled with interesting stories of her life's adventures and the people she'd met along the way!
She will be missed!
Friends and family are welcome to share messages and their memories of Judy at the website http://www.moneyandking.com/
Friends and family will gather for lunch on Sunday 2/25/2018 at 1:00 PM in Oakton, VA. Call Linda for directions (571-334-2644).