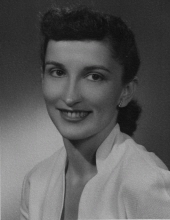 Obituary for Lora G. Koomanoff
Lora Gahimer Koomanoff (93) of Garrett Park, Maryland passed away peacefully on Monday, March 5th. She was preceded in death by her husband, Frederick A. Koomanoff and sisters Beulah Mitchell and Juanita Arnold. Lora was the devoted mother of three girls - Vivre Bell, Heather Renehan, and Elena Cole; and grandmother of Michael, Julia, Jessica, Allison, Samantha, Christopher, Patrick, Kaitlin, and Kevin.



Lora's passions were her music and writing. She graduated with a Masters from the Eastman School of Music in 1947. She played professionally in New York City before meeting and marrying Frederick. She then devoted herself to raising their family while finding time to write articles for various Quaker and women's magazines. She played piano well into her 90s!



Interment will be private.