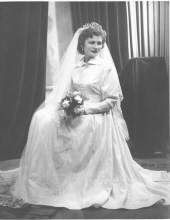 Obituary for Eleanor Tolci Carstea
Mrs. Eleanor Tolci Carstea
(1927- 2018)

The fascinating life of my wife Eleanor Carstea for over 61 years just ended a few days ago (3/23/18). My family members and I are devastated: We lost a great and wonderful wife, mother, grandmother and almost an irreplaceable human being.

One can only hope that God wanted her at this time and that she is with righteous people in the eternal place full of happiness. We all pray for her.

What does my wife Eleanor mean to me? For me she meant life. Without her I would still be in Romania living a modest life in anonymity. I would have not been able to live over 57 years in this great country, United States, and I would not have been blessed with four beautiful children and five wonderful grandchildren.

Again, I am forever indebted to my wife Eleanor, who fully shared the life with me. My life would have a different course and most of my life achievements would have not taken place.
Eleanor is the one who, through marriage, took me out from the communist claws. It was Eleanor who was the pillar of strength In our family, Raising four healthy, happy, and beautiful children: Julius a aeronautical engineer manager with Boeing Company, Eugene, a Director Doctor in the National Institute of Health; Virgil a War Veteran and a distinguished multidisciplinary manager Engineer; and Adrian, a darling daughter who proves to be one of the best daughters someone wishes to have.

Through thick and thin, she was always there for us. She was the glue that kept us together as a happy family. I will never forget her, Eleanor's contributions to my own life. She will be remembered forever for her kindness, honest love, perseverance, moral upbringings, courage and unwavering determination. She helped in shaping a glorious and luminous path for our thirteen –member close family.

Eleanor had many important roles in raising our four beautiful children and enjoying 5 gorgeous grandchildren. She is a master in cooking. The kitchen was her life and hobby. Gardening- she grows flowers and literally talked to them. She grew the best tomatoes and vegetables. She won first prize in the community for growing nice flowers in the yard and in the house. She liked order in the home and everywhere. She carried the cleaning of the home to the extreme, keeping it sparking clean without one bit of dust or dirt. She washed clothes daily and changed everything in the house to look nice, healthy, and clean.

She decorated about 3-4 houses we owned; painted inside and outside, made window treatments, etc.

She had full sovereignty in the kitchen where she created food that left your mouth watering. She was a specialist in desserts= friends called her "The Queen of Sweets". She used complex menu by using Romanian, American, French, German, Italian, Mexican, Greek, and Chinese dishes. Baklava ( a Greek delicacy), Sarmale (stuffed cabbage), Moussaka homemade sausages, etc. were unbeatable.

One important trait was the dress the children with the best clothes, simple, clean and wonderful. She desired to have the best dressed kids on the street for school. Church, gatherings, home, vacations, and sports. Never forgot to buy ties and bows.

She made herself beautiful gloves, jerseys, socks, hats, and scarfs for children.

Our four children health care and their overall well-being were of primary importance to her. When our first child was born, I became second priority in her life. The maternal spirit was extremely high in her. No matter what the children came first in her life, day and night. I did not like it but I accepted this.

I am at a loss of words about how much this changed me. She changed my wardrobe with things she brought from the U.S. from a poor Romanian boy; I became the best dressed man at my work. She forced me to bath frequently, to change my clothes daily and to eat 3 meals a day. Lack of eating 3 times a day was reason for ulcers of my stomach.

Nora was the electrician of the house, fixed lights, and irons, vacuum cleans, electric grass trimmers, hair dryers, shaves, washing machines, electric toothbrushes, garage openers, microwaves. She selected the color of painting, window treatments, pictures on the walls, carpets, bed covers, appliances, and electronics.

Eleanor was the office manager for our company. She prepared and typed reports, proposals, resumes, applications, and took care of accounting. She was the brain and soul of the office. I do not believe I couldn't have done it without her.

In the kitchen she was the baker and artful chef. She was a master of entertainment. Her table arrangements, floral combinations, variety and quality of dessert and drinks brought her many accolades and sincere compliments. For children she was a nurse , a caring and loving mother, mentor, and teacher.

She was a strong believer in God and the children learn from her very high moral principles. She sang in the church choirs and actively participated in bake sales, rummage sales, and fundraising events.

She liked outdoor activities and identified well with nature. She enjoyed visiting other countries- over 50 of them on 3 continents and ocean cruises. We had 12 of them.

Again we were fortunate to have such a mother, wife, friend, and grandmother (Buna). May God rest her in peace. She deserves it fully. We will join her in near future for a happy, everlasting life.
Previous Events
Visitation
Money and King Funeral Home
171 W. Maple Ave.
Vienna, VA 22180
Prayer Service 7:00 P.M.
Service
St. Mark's Orthodox Church
7124 River Rd
Bethesda, MD
Cemetery Details
Location
Columbia Gardens Cemetery
3411 Arlington Blvd
Arlington, VA 22201