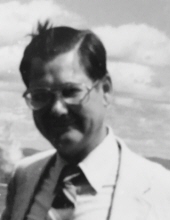 Obituary for Theodore "Ted" Chester Poling
Theodore C. Poling, 95
Theodore C. Poling, a CIA officer who served from the beginning of the Cold War through the end of the Vietnam Conflict, died April 4, 2018 at a retirement home in McLean. He was 95.
Mr. Poling had a natural affinity for language and was fluent in German, Russian and Greek. His language facility as well as his analytical skills placed him at several important historic junctures of the Twentieth Century. Among the significant assignments during his career were functioning as a Russian language expert at the Potsdam Conference in 1945 and participating in the American presence in Berlin during the construction of the Wall. He later served in Athens, Greece during the military coup and was stationed in Vietnam at the end of the war.
His full time government service concluded in 1975 but he continued working as a consultant at the National Archives, declassifying OSS and CIA files. Among his honors is a 1991 Donovan Award for Distinguished Service with the CIA. Further, he was interviewed in an October 28, 2004 National Archives and Records Administration lecture series, "CIA Spymaster," and was the keynote speaker at the dedication of the CIA's Museum of Covert Operations.
Theodore Chester Poling was born in Quincy, Illinois on March 25, 1923. After attending the University of Illinois, in 1942 he enlisted in the US Army receiving intensive language and counter-intelligence training. After his discharge from the Army in 1947, he graduated from Georgetown University School of Foreign Service.
Until recently, Mr. Poling was an active member of the McLean Baptist Church, where he was a volunteer teacher of English Language Learners in the Internationals Program, a Deacon, and a longtime member of the choir.
His wife of 67 years, Martha Peacock Poling, died in 2016. Survivors include four children, Karen (Mark) Kapeluck of Arlington, Jennifer (Dr. Thomas) Kobylski of McLean, Craig (Cheryl) Poling of Minneapolis, Minnesota, and John (Susan) Poling of Perth, Australia; four grandchildren, Kimberly (Josh) Salant, Bryan (Aidan Kos) Poling, and Anna and Matt Kobylski; three step-grandchildren in Australia; and two great-granddaughters, Alexandra Rose and Katherine Grace Salant. Granddaughter Stephanie Poling died in infancy.
Services will be on Saturday, April 21, 2018 at 2:00 p.m., at McLean Baptist Church, 1367 Chain Bridge Road, McLean, VA, 22101. Interment at Fairfax Memorial Park will be private.
Memorials may be made to Capital Caring, P.O. Box 1576, Merrifield, VA 22116-1576.
Previous Events
Memorial Service
McLean Baptist Church
1367 Chain Bridge Road
McLean, VA 22101