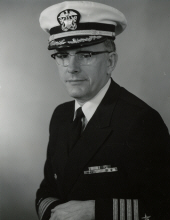 Obituary for James Eugene Radja
RADJA, JAMES "Jim" Captain (Age 88) U. S. Navy (Retired)
On 8 April 2018 in Vienna, Virginia at the age of 88.
James was born in Chicago's East Side neighborhood in February 1930, the son of the late Jakov and Caroline Radja, immigrants from Croatia in the early 1900s. Jakov was a worker at Republic Steel. James was a 1947 graduate of the James H. Bowen High School. He was appointed to the US Naval Academy from the Illinois Institute of Technology and graduated in June, 1951. Early in his Navy career he served in USS Collett (DD-730) off the Korean coast during the Korean War and the USS Hancock (CVA-19). After graduation from the US Naval Postgraduate School in Monterey, California in 1958 with a Masters degree in Electronics Engineering he served a two year tour in the Military Assistance Advisory Group, Tsoying, Taiwan where he learned to speak Mandarin and gave a celebrated speech to graduates of their naval academy. He assisted the Chinese Navy with the rebuilding of a WW2 LST into a communications ship with help from the Navy Electronics Laboratory in San Diego, California. While stationed in San Diego, and Vallejo, California he participated in the digital transformation of Navy ships via the Naval Tactical Data System in the 1960's as documented in "When Computers Went to Sea" by David Boslaugh published in 1999. This was followed in the early 1970s by development management of the digital "SHORTSTOP" electronic warfare system in Washington, D.C. He also served as Commanding Officer of the Naval Electronic Systems Engineering Center in Portsmouth, VA 1973 to 1979. In 1980/81 he was program manager of the Defense Satellite Communications System in Washington, D.C. Among his awards were the Korean Service Medal with four stars, National Defense Service Medal with one star, Navy China Service Medal, UN Korean Service Medal, National Defense Service Medal with one star, Navy Legion of Merit and the Defense Meritorious Service Medal. Upon retirement from the Navy in 1981 he worked for Northrop-Grumman for twenty years as a database developer/administrator in Herndon, Virginia. His favorite project involved the International Space Station and the allotment of items to be put into orbit with the Space Shuttle. Retirement permitted more attention to his love of family genealogy and over twenty years of volunteer work assisting school children with the Optimist Clubs of Oakton and Vienna, Virginia. In those clubs he served as Secretary/Treasurer, on the boards of directors, managing various fund raisers including Christmas tree sales. He served for years as the web master for the Fairfax Genealogical Society and the Vienna Optimist Club and also published his own family history web site. He and wife Caroline made several trips to Croatia, from the ancient city of Dubrovnik to the Roman Coliseum in Pula, exploring his parents past life and meeting with many cousins.
He is preceded in death by beloved wife of sixty-four years, the former Caroline Gould of San Diego, California; four children; Elizabeth (Gary) McCurdy of La Vegas, NV, James Jr (Leesa). of Owings Mill, MD, Gregory (Dorothy) of Bristow, VA and Melinda Radja of Vienna, VA plus three grandchildren, two great-grandchildren, and siblings Dolores M. Frost of Oakton, Virginia and Thomas Radja of Downers Grove, Illinois. Sister Donna Jean Quirke of Apple River, Illinois died in 2005.
Viewing at the Money & King Funeral Home of Vienna (http://www.moneyandking.com/) followed by a memorial service at St Mark Catholic Church of Vienna followed by burial in Arlington National Cemetery.
Previous Events
Visitation
Money and King Funeral Home
171 W. Maple Ave.
Vienna, VA 22180
Funeral Mass
St. Mark Catholic Church
9970 Vale Road
Vienna, VA 22180
Graveside Service
Arlington National Cemetery
1 Memorial Drive
Arlington, VA 22201