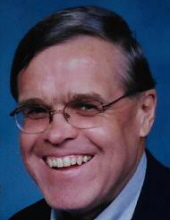 Obituary for Bill Aldacushion
William "Bill" Aldacushion -- beloved husband, father and grandfather -- passed away March 30 following a brave battle with esophageal cancer and a kidney disease.

Born in Los Angeles to Abram and Anna Aldacushion, Bill graduated from the University of Southern California, where he was a proud trombonist in the Trojan marching band. One of his early jobs was with Disneyland, where he operated the Mine Train among other rides. Bill's long career with IBM took him and his family to Washington to Tokyo and then back to Washington. In his retirement, Bill seemed to grow younger with every year. He dedicated his time to his favorite pursuits: music, travel, college sports and, most importantly, his four grandchildren.

He volunteered regularly at the Smithsonian Folklife Festival, the Kennedy Center and the Wolf Trap National Park for the Performing Arts, where he and his wife of 49 years, Mary, were named the 2016 volunteers of the year. The couple traveled often and to the far corners of the globe, including Ethiopia, Tasmania, Russia and, most recently, the Cook Islands. Mary surprised Bill with season tickets to the George Mason University men's basketball in 2005, the year the team went to the Final Four. Bill was a loyal and joyous supporter of both the men's and women's GMU teams (and their pep band, the Green Machine) ever since. At their home in Great Falls, Bill and Mary hosted more than a dozen concerts, spreading their love of Australian country music to friends, neighbors and family.

In addition to his loving wife, Bill is survived by sons David and Richard, daughters-in-law Marcy and Amena, and grandchildren Matthew, Adam, Nadia and Noah.

Contributions in Bill's name can be made to The Wolf Trap Foundation for the Performing Arts, The George Mason University Patriot Club or The Polycystic Kidney Disease Foundation.
Memorial Contribution
The Wolftrap Foundation For The Performing Arts
1645 Trap Road
Vienna, Virginia 22182
The George Mason University Patriot Club
4400 University Drive
Fairfax, Virginia 22030
The Polycystic Kidney Disease Foundation
1001 E. 101st Terrace
Suite 220
Kansas City, Missouri 64131