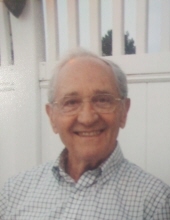 Obituary for Dr. David A. Charvonia
r. David A. Charvonia

David A. Charvonia of Fairfax, Virginia passed away on April 12, 2018 with his children by his side. He now joins his beloved wife, the late Athena Charvonia and his granddaughter, the late Kara Schachinger. He was a beloved husband, father and grandfather who was generous of heart and mind to all those that knew him. Originally from Denver, Colorado, Dave earned his degree in Engineering from CU Boulder. After college, he served in the U.S. Army in Ft. Belvoir and then went on to earn his PhD in Mechanical Engineering working within the Intelligence Community for much of his career. He spent years volunteering his free time including driving the tractor and giving historical tours at Frying Pan Park and being one of the Volunteers of the Year for Fairfax County. He was a man of great integrity and humility, never mentioning his generosity to those in need. Dave also had a special love for dogs and elephants. Dave is survived by his two children David M. Charvonia and Annie Schachinger and grandchildren Kyle Schachinger and Dan Simpson. He will be greatly missed until we meet again.