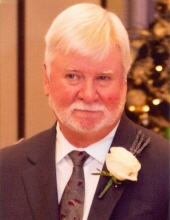 Obituary for Charles E. Harrington, Jr.
Charles E. Harrington, Jr., age 73, of Oakton, Virginia passed away on Wednesday, April 18, 2018, with his family by his side, at INOVA Fairfax Hospital. He was a beloved husband, step-father and grandfather who was generous of heart and mind to all those that knew him. Originally from Wilmington, North Carolina, Charlie earned his degree in Accounting from Strayer University, Washington DC. After college, he served in the US Air Force. He worked in the accounting field for much of his career. He was a man of great integrity. Charlie had a special love for his family and also for dogs. Charlie is preceded in death by his father, Charles E. Harrington, Sr., his mother Virginia C. Harrington. He is survived by his wife of 34 years Lucrezia A. Harrington, two step-children Henry N. Siddeley and Monica M. Badillo, and grandchildren Felicia, Samantha, Anthony and David. He will be greatly missed.

Services were held privately.