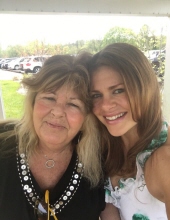 Obituary for Debra Denise Imbs
Debra Imbs, 64 of Vienna, VA passed away on May 22, 2018 in Baltimore, MD.

Debra was born in Northern VA to Daniel and Lucille Imbs on July 30, 1953. She went to James Madison Highschool. Debra worked as an airline stewardess for United Airlines for seven years and she was also a certified Interior Designer. Debra loved to travel, had an affinity for animals, and enjoyed leisurely gambling at the casino (mostly playing the slots) for fun.

Debra is preceded in death by her father Daniel Imbs, her mother Lucille Imbs, and her brother Rick Imbs.

Debra is survived by her daughter India Johnson and her son-in-law Joel Johnson of Ashburn, VA; and her brother, Daniel (DJ) Imbs of Port Sant Lucie FL. She is also survived by her long time sweetheart Matthew Moran of Cleveland, Ohio.