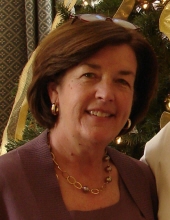 Obituary for Gail Ann Clark
Gail Starns Clark, 66, of Falls Church, passed away on June 17th. A beloved wife, mother, grandmother and sister, she will forever be remembered for her generous spirit, her love of family and her quick wit.
A Northern Virginia native, Gail was a graduate of Yorktown High School and Elon University. She was an avid reader and a member of a book club full of her fellow Yorktown Class of '69 graduates. She loved travel and experiencing new countries and cultures. After raising her children, Gail returned to her career, working for the Risk Management Association and later for the American Public Works Association. In her retirement she enjoyed spending time with her grandchildren, taking French courses and volunteering at the Fairfax Library. She also enjoyed a circle of friends and neighbors with a shared love of the beautiful views and quiet days on the Northern Neck.
She is survived by her husband of 43 years, Don, son Ryan (Andrea) Clark of Fairfax, VA and daughter Laura (Karel) van der Mandele of Atlanta, GA, sister Carolyn Robinette and brother Doug (Deborah) Starns. She will be especially missed by her grandchildren Peter, Ingrid, Sophia and Emily.
Visitation will be held at 1pm followed by a Memorial Service at 2pm on Friday, June 22nd at Money and King Vienna Funeral Home, 171 West Maple Avenue, Vienna, VA 22180.
In lieu of flowers, a donation may be made in her memory to the Fairfax Library Foundation.
Previous Events
Visitation
Money & King Funeral Home
171 W. Maple Ave.
Vienna, VA 22180
Service
Money & King Funeral Home
171 W. Maple Ave.
Vienna, VA 22180