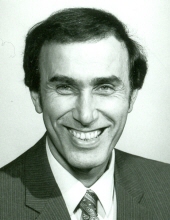 Obituary for Jay Alden
Jay Alden passed away peacefully at his home in Reston, Virginia. Jay is survived by his wife of 24 years, Judith Kirkhorn, his sister, Arlene Beberman, his children Lori (Mike) Treadway, Bret (Marilyn) Alden, his stepsons Erik (Anne Stuart) Kirkhorn and Nicholas (Elisa) Kirkhorn, 11 grandchildren, and several nieces and nephews. He was preceded in death by his mother and father, Sylvia and Henry Asowsky, his first wife, Barbara Marcus, and his brother, Gene Alden.

A proud native of the Bronx, New York, Jay served in the Air Force for four years based in Biloxi, Mississippi. There he discovered a passion for technology and liked teaching others about it. He earned his master's degree and Ph.D. from Hofstra University, and held training and executive positions at various corporations, including Sperry on Long Island, Xerox in Virginia, and ARINC in Annapolis. Later in his career Jay received recognition and awards as a skilled and highly-regarded professor at the University of Maryland University College Graduate School and the Information Resources Management College of the National Defense University. For decades he was an active member of the International Society for Performance Improvement (ISPI), chairing committees related to evaluation and emerging technology and serving on the organiation's executive board. In addition, he authored several articles and books dealing with technology, distance education research, and decision making.

Jay was a loving, generous, and devoted husband, father, and grandfather. He traveled widely, was an avid reader of nonfiction, an unwavering fan of the New York Yankees and D.C. sports teams, and an enthusiastic boater while living near Annapolis for over 30 years. With Judith he enjoyed attending cultural events, such as performances at Arena Stage and the Kennedy Center. He was not only an award-winning photographer, he also created and led two successful digital photography clubs, one in Annapolis and the other in Reston.

A Celebration of Life gathering will be held on July 3, 2018, from 2:30-4:00 pm at the Stratford Court Clubhouse, 1854 Stratford Park Place, Reston, Virginia.

In lieu of flowers, the family suggests memorials to the American Red Cross or the American Civil Liberties Union.
Previous Events
Celebration of Life
Stratford Court Clubhouse
1854 Stratford Park Pl
Reston, Virginia 20190