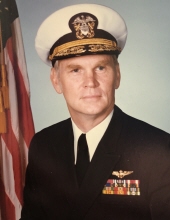 Obituary for Frederick Gale Fellowes, Jr.
Frederick Gale Fellowes, Jr.
January 12, 1930 – July 16, 2018

Rear Admiral Frederick Gale Fellowes, Jr. – Ted to family and friends – passed away peacefully with family at his side on July 16th, following a long illness.

Born in Buffalo, NY on January 12, 1930, Ted entered college at Dartmouth and then transferred to the United States Naval Academy, from which he graduated in 1953. Shortly after his commissioning as an Ensign, he entered flight training school and was designated a Naval Aviator in 1955.

He flew more than 300 combat missions during the Vietnam War and went on to serve as Executive Officer of the aircraft carrier Kennedy; Commanding Officer of the combat store ship San Diego; and then Commanding Officer of the aircraft carrier Hancock while it participated in the evacuations of Cambodia and South Vietnam.

After being promoted to Rear Admiral, he served as the Commander, Fighter Airborne Early Warning Wing Pacific in San Diego, and concluded his naval career at the Pentagon as Director, Tactical Air Surface and Electronic Warfare Development Division.

His distinguished Naval career was recognized with awards that included the Legion of Merit, three Distinguished Flying Crosses, and the Meritorious Service Medal. After retiring from the Navy, Ted earned a law degree from George Washington University and practiced law in Northern Virginia.

Ted married Sarah Campbell Sharpe of Mobile, AL, in 1955. In their 63 years of marriage he and Sally travelled the world, but found their greatest joy in hosting family and friends at wonderful gatherings in their Northern Virginia home.

In addition to Sally, Ted is survived by his two daughters, Ashley Fellowes MacCarthy (married to Stephen MacCarthy) of Glen Mills, PA, and Sarah Gale Fellowes (married to David Townsend) of Myrtle Beach, SC; a grandson, Justin Frederick MacCarthy of Glen Mills, PA; and his brother Robert Fellowes (married to Janie) of Williamsburg, VA. He was predeceased by his younger brother John (Jack) Fellowes. Both of his brothers also served as U.S. Naval officers.

Funeral services will be held on Wednesday, July 25 at the United States Naval Academy in Annapolis.
Previous Events
Service
US Naval Academy Chapel
Annapolis, MD