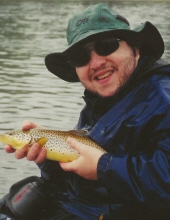 Obituary for Bertrand Renzetti
Renzetti, Bert
(age 50)
Of Fairfax, VA died on August 29, 2018 at Fairfax Hospital. Beloved son of the late Bertrand and Adriana Renzetti; half-brother of Jeanne Winstead (Benny) and nephew of Joan Durant. He is also survived by many cousins and his friend and caregiver, Ato Olise-Aikins.
Born December 1, 1967, in Santiago, Chile, Bertrand Andres Renzetti was a happy, bright, inquisitive, mischievous, active little boy. His father had a distinguished career in exploration geology and moved the family between Santiago, Chile; New York City; Tucson, Arizona; Mendoza, Argentina; and other countries while Bert was growing up. At the age of thirteen Bert contracted an illness that left him partially blind and with other life-long health issues. Eventually forced to a wheel-chair, Bert remained an unstoppable force. His disposition and outlook were always cheerful; he loved God devoutly; and he lived life vigorously, resolutely, and tenaciously. At age fifteen he started managing his own investment portfolio and took a job delivering newspapers. In 1996 he graduated from the University of Arizona with a degree in Finance. During his undergraduate career, he did summer internships at White Sands Missile Range in New Mexico; the Muscular Dystrophy Association in Tucson, Arizona; Edwards Airforce Base in California; and the David Taylor Research Center in Bethesda, Maryland. In 1997 he proudly accepted a position serving his country with the CIA and moved to McLean, Virginia where he had a successful career for 13 years until health issues forced him to retire. Bert loved God, his country, his family, his friends, his job, investing, and fly-fishing, even to the point of making his own flies.
A Mass of Christian Burial will be celebrated at Our Lady of Good Counsel Catholic Church, 8601 Wolftrap Rd., Vienna, VA on Monday, September 10 at 10 AM. Interment Fairfax Memorial Park. Memorial contributions may be made to the Make-A-Wish America, Gift Processing, 1702 E. Highland Ave., Suite 400, Phoenix, AZ 85016. Online condolences and fond memories may be offered to the family at: www.moneyandking.com.
Previous Events
Funeral Mass
Our Lady of Good Counsel Catholic Church
8601 Wolftrap Rd.
Vienna , VA 22182
Cemetery Details
Location
Fairfax Memorial Park Cemetery
9900 Braddock Rd
Fairfax, VA 22032