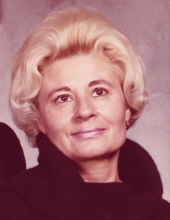 Obituary for Gilda M Shaver
Gilda Greco Shaver, 88, passed away September 25, surrounded by her husband and sons, and as always, most concerned about her beloved husband of 66 years, Trent. She was a graduate of Penn State, and Trent is a retired career naval officer from the Annapolis Class of 51. His career brought him to McLean in 1965, and they both remained There since then, raising two sons, Edward and Trenton Douglas. Gilda loved children and knowledge, and she began a teaching career in Fairfax county in the early 70s, and became that one teacher you always remember for most of the children who passed through Lewinsville or Kent Gardens Elementary until her retirement in 1992. Those who were lucky enough to have known her then and are reading this now are surely hearing her voice and the sound of her laugh and remembering that more than anything, she taught everyone how to live.

Gilda had the gift of making every moment with her enjoyable, and of making everyone she was around feel special. She lived a life of graciousness and love, and was cherished by everyone who knew her for the simple reason that they felt cherished in her presence. Gilda was born in Aliquippa, Pa., the daughter of Edward and Catherine Greco, and the granddaughter of Joseph and Mary Greco, who brought the Greco family to America before World War One. She is survived by her brother Ralph, who established himself, like his sister, as an unforgettable teacher in Palm Beach, Florida. Gilda is also survived by a bevy of cousins who represent the fourth and fifth and sixth generations of the family planted in America by Joseph and Mary.

Gilda loved literature, and ideas, and finding the parts of life worth celebrating. But mostly she loved people, and was always able to see and bring out the best of those around her. Gilda was that spirit that everyone reached for when they needed to feel better about themselves or life, and she performed that minor miracle every day of her life for everyone that she met. She had the strength to understand that life is often a test of our dreams and our faith, and that love and optimism were the keys to living life in face of that sometimes trying reality. And when all else failed, there was laughter, and family, and chocolate. Gilda saw life as a choice we make again each dawn on every day of our lives. The simple truth she somehow learned and lived, and the gift she leaves to all of us is pure and perfect as the woman that she was…choose optimism and love and see what happens next.
Previous Events
Service
St. John the Beloved Catholic Church
6420 Linway Terrace
McLean, VA 22101