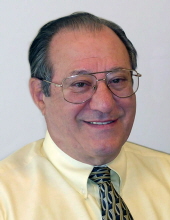 Obituary for James Ferrer, Jr.
On Tuesday, July 25th 2017, James Ferrer Jr of Monessen, Pennsylvania died peacefully at the Virginia Hospital Center, Arlington, VA after battling cancer. Beloved husband of 57 years to Dolores Ferrer and devoted father of Vincent Ferrer and the late Annette Ferrer. His siblings Michael, Joseph and Marion (Nevala) predeceased him. James never learned of his sister Marion's passing just two weeks earlier. James Ferrer was born in a steel town in Pennsylvania. A natural student, an opportunity arose for him to attend St. Fidelis seminary. The focus and discipline experienced at St. Fidelis laid the foundation for his future successes. During the summer after his graduation while working at a steel mill, a near death experience cleaning a blast furnace and a disappointing paycheck convinced him that college was for him. With the support of his parents, Mary (Kubic) Ferrer and James Ferrer Sr., high school teachers helped him successfully apply to Alliance College where he received a B.A. in History. James continued his education at the University of California at Berkley, receiving an M.A. in Latin American Studies and PH.D in Latin American History. He capped his education with an M.P.A in Economics from Harvard University. By that time James had already begun his first career as a U.S. diplomat. He served in Argentina, Chile, Portugal, the United Nations and Brazil (twice). Arriving in Portugal in the midst of a revolution, James, as the Director of Economic Affairs at the US Embassy, worked with the embassy team to overcome a communist threat and then financially secure the first democratically elected government of Portugal. As he said, he went with hat in hand asking for money from European and others countries until there was a billion dollar fund to assist Portugal. James Ferrer also served as Director of the Office of Aviation Affairs at the Department of State, conducting or overseeing negotiations with more than 50 countries, traveling extensively to expand US airline operating rights. He then served as Alternate US Representative to the United Nations Economic and Social Council where he met daily with representatives of other countries, debating the world's principal economic issues. For gaining a commitment of economic reform from the nations of Africa which would have a profound national and international ramification for the remainder of the century, he was awarded the State Department's Distinguished Honor Award for recognition of exceptionally outstanding service or achievements of marked national or international significance. He was one of three non-Ambassadorial rank Foreign Service Officers to have ever received this award. James Ferrer's last overseas assignment was as Deputy Chief of Mission and Chargé d'affaires (Acting Ambassador) to Brazil.
Retiring from diplomatic service after returning from Brazil, James began his second and third career as an airline executive and professor/director at George Washington University. As Director of US, Canada and Asia at VASP Brazilian Airlines he established the airline's offices in various US cities and Korea. He then founded and directed the Institute of Brazilian Business and Public Management Issues (IBI) and later founded and directed the Center for Latin American Issues (CLAI). For a six year period at GW he was Director of the Latin American and Hemispheric Studies program (LAHSP).
James enjoyed singing, music, dancing, old movies, tennis, skiing (when not falling!), visiting family in Spain and Poland, and friends in Portugal and Brazil. He enjoyed choral directing. While in Portugal he founded a choral charity that raised funds for orphanages.
Wake services will be held Friday August 4th at 2-4PM and 6-8PM at Money and King Funeral Home at 171 Maple Ave W, Vienna, VA 22180. There will also be a viewing from 10 to 10:45a.m followed by Funeral Mass at 11am on Saturday August 5, 2017 at St Luke Catholic Church 7001 Georgetown Pike, McLean, Virginia 22101. Interment immediately after at Columbia Gardens Cemetery and followed by a reception at St Luke Catholic Church.
In lieu of flowers, memorial contributions may be given to Eternal Word Television Network (EWTN) at 5817 Old Leeds Rd., Irondale, Alabama 35210 or a charity of your choice.
Previous Events
Visitation
Money & King Funeral Home
171 W. Maple Ave.
Vienna, VA 22180
Visitation
Money & King Funeral Home
171 W. Maple Ave.
Vienna, VA 22180
Visitation
St Luke Catholic Church
7001 Georgetown Pike
McLean, VA 22101
Service
St Luke Catholic Church
7001 Georgetown Pike
McLean, VA 22101
Cemetery Details
Location
Columbia Gardens Cemetery
3411 Arlington Blvd
Arlington, VA 22201